Home
Males
Females
Puppies
Breedings
Produced
Family Photos
Web Awards
Application/Deposit
Sales Contract
APBT Books
APBT Videos
Inspiration
Responsible Owners
Kids & Dogs Safety
Breed Standards
APBT Dictionary
Origin of APBT
Historical Events
Famous APBTs
Gameness
I Bloodlines Stories
2 Bloodlines Stories
3 Bloodlines Stories
4 Bloodlines Stories
5 Bloodlines
6 Bloodlines
Colby Dogs
Floyd Boudreaux
Maurice Carver
Don Mayfield
Blue BloodLines
Blue pitbulls
Illigitimate APBTS
I gamedog gallery
2 gamedog gallery
The Matches
The Keep
Dog Activities
Breaking Stick
Springpoles
Housing APBT
Dog Fighting
Animal Laws
BSL
APBT Facts & Myths
Positve Press
Positive Press 2
Media Lies
Issues & Epidemics
Rescue Organizations
Petey & Lil Rascals
Puppy Care
Health Care
Disease&Treatment
First Aid Kits/Emergemcy Care
Vitamins & Minerals
PrebreedingTests
Ear Cropping
Methods of Breeding
Tips-Whelp/Breeding
Breeding Info
1 Basic Genetics
2 Basic Genetics
3 Basic Genetics
4 Basic Genetics
Color Genetics
Size Genetics
Dog Training
Aggression&Testing
1 Weight Pull
2 Weight Pull
Supplies
Constructing Kennel
Other Bully Breeds
Other BullyBreeds2
Our Banner
Message Boards
Web Rings
Links 1
Links 2
Topsites
Topsites II
Contact:

EMAIL

Please Sign Our Guestbook
The Origin of the APBT
By John P. Colby
The Pit Bull Terrier was made from the Bulldog and the old English White Terrier. It has been said that a cross of the old Spanish Pointer weas used, but this has never been confirmed to be authentic. The exact proportion in which each breed was used to produce the Pit Bull Terrier is not known.
During the Nineteenth Century when bull-baiting and dog-fighting were active sports, the bulldog was found to be too slow for pit purposes, hence the need for a dog with more speed and a good strong, punishing jaw.
This new breed met with success and was much superior to the bulldog for fighting in the pit. One of the first strains that was produced was noted for its gameness and fighting ability. One sire and his son were reputed to have won many battles and were undefeated.
After the bill was passed declaring bull-baiting and dog-fighting illegal, the Pit Bull Terrier was associated with the smartly attired young man about town, the prizefighters and tavern keepers.
Most of the impromptu combats were staged in cellars of the taverns or at some secluded rendezvous in a small village.
Little change has come about in the appearance of the Pit Bull Terrier. The most noticeable change that has appeared is the head. The present dogs lean more to the Terrier type than the bulldog type as was common among the early dogs of the nineteenth century.
The writer has seen strong characteristics crop out from time to time divulging their ancestors. The more common characteristics are bench legs, screw tail, undershot jaw and low station. Yet there has been produced an exact replica of the old English White Terrier, in the hide of a Pit Bull Terrier. Although these characteristics seldom appear, they are more commonly found in dogs that have been inbred.


~-~

In the eighteenth and nineteenth centuries, dog fighting and bull-baiting were very active sports in England. During the Nineteenth century, England passed a bill making the sports illegal. Soon after this bill was passed the Pit Bull Terrier started to disappear from the public eye, as no one felt a though he wanted to be known as the owner of a battle-scarred pit dog, due to the penalty the law prescribed for any one found guilty of fighting dogs in the pit. A few years later the breed seemed to revive and was given the name of the Staffordshire Terrier, by which the breed is still known today in England. However, when dog fighting was introduced into the United States, the old name of the Pit Bull Terrier stuck with the breed and it is the belief of the author that they will never be known by any name other than the American Pit Bull Terrier.
When the Pit Bull Terrier was intorduced into America, he was more commonly found to be owned by prize fighters, saloon keepers and habitues, sporting men and the like. From the start the breed earned an unjust reputation due to his fighting ability and the character of the owner. To this day he is still trying to live down an unjust and undeserved reputation.
At about the turn of the Twentieth Century the breed was fast becoming popular and the pit dog found his way into the homes of men from all walks of life. Dog magazines carried ads and illustrations of dogs that had earned a reputation in the pit and through this advertising many dogs were sold and fought for large sums of money.
Much of this popularity was due to the notoriety given Harry Krieger and his dog,

"Crib,"

Cockney Charlie and his dog

"Pilot,"

and Johnnie McDonald's "Grip," more commonly known as the Gas Housedog; McGough's "Bob," better known as "Bob, the Fool"; Connor's Bismark, "Rock and Rye," and many other famous dogs with a reputation proven in the pit.
Inasmuch as dog-fighting is an illegal sport, thousands of dollars are wagered each year at the pitside. As long as these dogs are bred, there will be pit contests to prove who owns the better fighting dog.
A few of the many fanciers of the past and present who were active in fighting and producing game pit dogs are: Tom O'Rourke, Hector Connor, Pat McDevitt, Johnnie McDonald, Ted Timoney, John Galvin, J. Edwards, Con Reardon, Jack Burke, the Farmer Brothers, Con Feely, Mike Redican, Noonan, Semmes, John P. Colby, George Armitage, William Shipley, Jack Wolf and Tom McGough. A few of the present day men that have been successful in producing game pit dogs are: Pete Donovan, Earl Tudor, Jim Williams, Al Brown, J. M. Corrington, Ham Morris, Joe Corvino, Walter Komosinski, Harry Turner, C. P. Delaney, Charles Smith and Harry Clark.
At the present writing the breed is advancing rapidly in popularity. The author predicts that within a few years there will be such a demand for game pit dogs for sporting purposes, that it will be beyond the production. Due to the fact that this breed has weathered the so-called depression that prevailed, is proof enough that there is a market for them, even though they have a bad reputation in the dog world. Dog fighting in the past two years has increased over fifty per cent as compared with the previous two years. Which proves that the sport still holds a fascination. New faces, new dogs, new breeders gain recognition each year, and the game is on an upward trend that will see no equal.
By John P. Colby
History of APBT
by Michael Burr
The American Pit Bull Terrier (APBT) is a descendent of the original English bull-baiting Bulldog and has historically been bred with working/performance goals in mind. The challenge of describing the American Pit Bull Terrier inevitably invites a long sequence of superlatives. The APBT is a supremely athletic, highly versatile, adaptive, gushingly affectionate, eager-to-please, all-around family dog. In courage, resolve, indefatigableness, indifference to pain, and stubborn perseverance in overcoming any challenge, the APBT has no equal in the canine world. Although the APBT was once used as a national symbol of courage and pride, the breed is largely misunderstood today.

Even though the APBT has historically been bred to excel in combat with other dogs, a well-bred APBT has a rock-steady temperament and, contrary to popular belief, is NOT inherently aggressive towards humans. However, as adults, some APBTs may show aggression towards other dogs. This fact, along with the APBT's strength and determination, should be taken into account when considering if the APBT is the right breed for you. As with any companion dog, socialization and consistent fair-minded training is a must from a very early age.

Although some APBTs may be suspicious of strangers, as most dogs are, and will protect loved ones if necessary, in general they do not excel in protection/guard work. If your main reason for getting a dog is for protection/guard work, perhaps a Rottweiler, German Shephard, or a Doberman Pinscher would suit you better. Or, if you really like the bulldog phenotype, look into an American Bulldog.

There are several types of dogs that are commonly called "Pit Bulls." Primarly, these are the American Pit Bull Terrier, the American Staffordshire Terrier (AST), and the Staffordshire Bull Terrier (SBT). All three of these dogs share common ancestry but have been subsequently bred emphasizing different breeding criteria. Due to this divergence, some people feel that they are now different breeds. Others choose to view them as different "strains" of the same breed. Neither view is wrong, as it comes down to how one defines what a "breed" is. This FAQ is primarily about the American Pit Bull Terrier, specifically those dogs of relatively recent game-bred ancestry. Some of the material may ring true for the AST and the SBT, but the authors are biased toward the APBT from performance-bred lines, and this bias will be clear throughout the FAQ.
Among enthusiasts, the history of the APBT is as controversial as the breed itself is among the misled public. The breed's history is a recurrent subject of lively debate in the magazines devoted to the breed. In fact, this FAQ was hotly debated among the contributors before it reached its final form, and still everyone isn't 100% happy!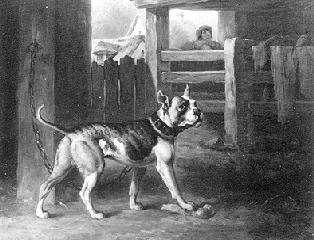 Although the precise origin of the APBT is not known, we can reliably trace its roots back at least one hundred and fifty years or so [1] to England. During the late 18th and early 19th centuries the sport of bull-baiting was very much alive and dogs were bred to excel in this endeavor. The same type of dog was also used by hunters to catch game and by butchers and farmers to bring down unruly cattle. These dogs were called "bulldogs." Historically, the word "Bulldog" did not mean a specific breed of dog per se, but rather it was applied to descendants of the ancient Mastiff- type dogs that excelled in the task of bull-baiting. The "bulldogs" of yore were much different from, and should not be confused with, the loveable clowns of the show ring today. The old, performance-bred, working bulldog was closer in phenotype and spirit to the APBT and/or the modern American Bulldog. The use of the word "bulldog" applied to APBT's persists even today among APBT fanciers.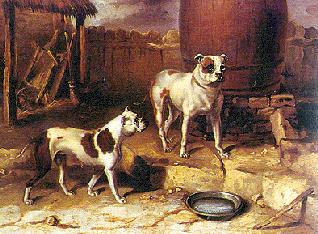 When bull-baiting was outlawed in England in 1835 the sport of matching two dogs against one another in combat rose in popularity to fill the void. One point of contention about the history of the APBT is whether these pit fighting dogs were essentially a new breed of dog specially created for this popular pastime. Some authors, notably Richard Stratton, have theorized that the APBT is essentially the same breed as the Renaissiance bull-baiting dogs, largely unmixed with any other kind of dog, specifically terriers. These authors consider the present name, American Pit Bull Terrier, a double misnomer, since, in their view, the breed is not of American origin and is not a terrier. They explain the popular attribution of the breed's origin to a cross between bull-baiters and terriers as a retrospective confusion with the breeding history of the English Bull Terrier, which is a totally distinct breed that was never successful at pit fighting but whose origin is well-documented. Other authors who have researched the topic, such as Dr. Carl Semencic, argue that the APBT is indeed the product of a cross between bull-baiting dogs and terriers and that the breed simply did not exist in its current form during the Renaissance. They would argue that when we think of the terriers in the APBT's ancestry, we should not envision modern-day show dogs like Yorkshire Terriers, but instead working terriers (probably now extinct) that were bred for great tenacity in hunting. The problem of proof, which hangs over the discussion of any early breed history, is compounded in this case by the extreme secrecy of the breeders of pit dogs. In the 19th century pedigrees, if committed to paper at all, were not divulged, since every breeder feared letting his rivals in on the secrets of his success and replicating it. In any case, by no later than the mid-19th century, the breed had acquired all of the essential characteristics for which it is still prized today: its awesome athletic abilities, its peerless gameness, and its easy-going temperament.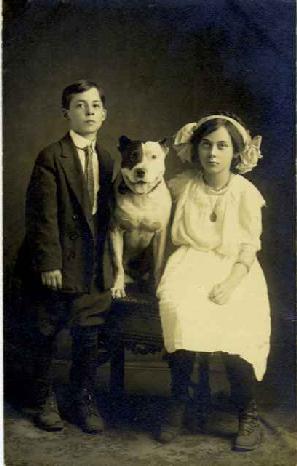 The immediate ancestors of the APBT were Irish and English pit fighting dogs imported to the States in the mid-19th century. Once in the United States, the breed diverged slightly from what was being produced back in England and Ireland. In America, where these dogs were used not only as pit fighters, but also as catch dogs (i.e., for forcibly retrieving stray hogs and cattle) and as guardians of family, the breeders started producing a slightly larger, leggier dog. However, this gain in size and weight was small until very recently. The Old Family Dogs in 19th century Ireland were rarely above 25 lbs., and 15-lb. dogs were not uncommon. In American books on the breed from the early part of this century, it is rare to find a specimen over 50 lbs. (with a few notable exceptions). From 1900 to 1975 or so, there was probably a very small and gradual increment in the average weight of APBTs over the years, without any corresponding loss in performance abilities. But now that the vast majority of APBTs are no longer performance-bred to the traditional pit standard (understandably, since the traditional performance test, the pit contest itself, is now a felony), the American axiom of "Bigger is Better" has taken over in the breeding practices of the many neophyte breeders who joined the bandwagon of the dog's popularity in the 1980s. This has resulted in a ballooning of the average size of APBTs in the last 15 years--a harmful phenomenon for the breed, in our opinion. Another, less visible modification of the breed since the 19th century was the selective intensification of genetically programmed fighting styles (such as front-end specialists, stifle specialists, etc.), as performance breeding became more sophisticated under competitive pressures. In spite of these changes, there has been a remarkable continuity in the breed for more than a century. Photos from a century ago show dogs indistinguishable from the dogs being bred today. Although, as in any performance breed, you will find a certain lateral (synchronic) variability in phenotype across different lines, you will nevertheless find uncanny chronological continuity in these types across decades. There are photos of pit dogs from the 1860s that are phenotypically (and, to judge by contemporary descriptions of pit matches, constitutionally) identical to the APBTs of today.
Throughout the 19th century, these dogs were known by a variety of names. "Pit Terriers", "Pit Bull Terriers", "Half and Half's", "Staffordshire Fighting Dogs", "Old Family Dogs"(the Irish name), "Yankee Terriers"(the Northern name), and "Rebel Terriers"(the Southern name) to name a few. In 1898, a man by the name of Chauncy Bennet formed the United Kennel Club (UKC) for the sole purpose of registering "Pit Bull Terriers" as the American Kennel Club wanted nothing to do with them. Originally, he added the word "American" to the name and dropped "Pit". This didn't please all of the people so later the word "Pit" was added back to the name in parentheses as a compromise. The parentheses were then removed from the name about 15 years ago. All other breeds that are registered with UKC were accepted into the UKC after the APBT. Another registry of APBTs is the American Dog Breeders Association (ADBA) which was started in September, 1909 by Guy McCord, a close friend of John P. Colby. Now under the stewardship of the Greenwood family, the ADBA continues to register only APBTs and is more in tune with the APBT as a breed than the UKC. The ADBA does sponsor conformations shows, but more importantly, it sponsors weight pulling competitions which test a dogs strength, stamina, and heart. It also publishes a quarterly magazine dedicated to the APBT called the American Pit Bull Terrier Gazette (see the "References" section). The authors feel that the ADBA is now the flagship registry of APBT as it is doing more to preserve the original characteristics of the breed.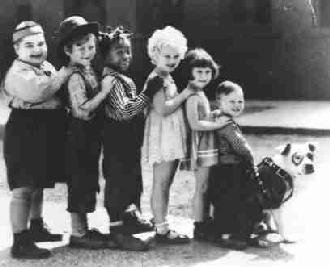 In 1936, thanks to "Pete the Pup" in the "Lil Rascals" and "Our Gang" who familiarized a wider audience with the APBT, the AKC jumped on the bandwagon and registered the breed as the "Staffordshire Terrier". This name was changed to "American Staffordshire Terrier" (AST) in 1972 to distinguish it from its smaller, "froggier", English cousin the Staffordshire Bull Terrier. In 1936, for all intents and purposes, the AKC, UKC, and ADBA version of the "Pit Bull" were identical since the original AKC stock came from pit fighting dogs, which were UKC and ADBA registered. During this time period, and the years that preceded it, the APBT was a well-liked dog in America. At this time the APBT was considered an ideal family pet. Because of his fun-loving, forgiving temperament, the breed was rightly considered an excellent dog for families with small children. Even if most of them couldn't identify the breed by name, kids of the Lil Rascals generation wanted a companion just like "Pete the Pup". During the First World War, there was an American propaganda poster that represented the rival European nations with their national dogs dressed in military uniforms; and in the center representing the United States was an APBT declaring in a caption below: "I'm neutral, but not afraid of any of them."
Since 1936, due to different breeding goals, the American Staffordshire Terrier and the American Pit Bull Terrier have diverged in both phenotype and spirit/temperament, although both, ideally, continue to have in common an easy-going, friendly disposition. [2] Some folks in the fancy feel that after 60 years of breeding for different goals, these two dogs are now entirely different breeds. Other people choose to view them as two different strains of the same breed (working and show). Either way, the gap continues to widen as breeders from both sides of the fence consider it undesirable to interbreed the two. To the untrained eye, ASTs may look more impressive and fearsome, with a larger and more blocky head, with bulging jaw muscles, a wider chest and thicker neck. In general, however, they aren't nearly as "game" or athletic as game-bred APBTs. Because of the standardization of their conformation for show purposes, ASTs tend to look alike, to a much greater degree than APBTs do. APBTs have a much wider phenotypical range, since the primary breeding goal, until fairly recently, has been not to produce a dog with a certain "look" but to produce one capable of winning pit contests, in which the looks of a dog counted for nothing. There are some game-bred APBTs that are practically indistinguishable from typical ASTs, but in general they are leaner, leggier, and lighter on their toes and have more stamina, agility, speed, and explosive power.
Following the second World War, until the early 1980s, the APBT lapsed into relative obscurity. But those devoted few who knew the breed knew it in intimate detail. These devotees typically knew much more about their dogs' ancestry than about their own--they were often able to recite pedigrees back six or eight generations. When APBTs became popular with the public around 1980, nefarious individuals with little or no knowledge of the breed started to own and breed them and predictably, problems started to crop up. Many of these newcomers did not adhere to the traditional breeding goals of the old-time APBT breeders. In typical backyard fashion they began randomly breeding dogs in order to mass produce puppies as profitable commodities. Worse, some unscrupulous neophytes started selecting dogs for exactly the opposite criteria that had prevailed up to then: they began selectively breeding dogs for the trait of human aggressiveness. Before long, individuals who shouldn't have been allowed near a gold fish were owning and producing poorly bred, human-aggressive "Pit Bulls" for a mass market. This, coupled with the media's propensity for over-simplification and sensationalization, gave rise to the anti-"Pit Bull" hysteria that continues to this day. It should go without saying that, especially with this breed, you should avoid backyard breeders. Find a breeder with a national reputation; investigate, for example, the breeders who advertise in the breed's flagship magazine, The American Pit Bull Terrier Gazette. In spite of the introduction of some bad breeding practices in the last 15 years or so, the vast majority of APBTs remain very human-friendly. The American Canine Temperament Testing Association, which sponsors tests for temperament titles for dogs, reported that 95% of all APBTs that take the test pass, compared with a 77% passing rate for all breeds on average. The APBT's passing rate was the fourth highest of all the breeds tested.
Today, the APBT is still used (underground and illegally) as a fighting dog in the United States; pit matches also take place in other countries where there are no laws or where the existing laws are not enforced. However, the vast majority of APBT's--even within the kennels of breeders who breed for fighting ability--never see any action in the pit. Instead they are loyal, loving, companion dogs and family pets. One activity that has really grown in popularity among APBT fanciers is weight pulling contests. Weight-pulls retain something of the spirit of competition of the pit fighting world, but without the blood or sorrow. The APBT is ideally suited for these contests, in which the refusal to quit counts for as much as brute strength. Currently, APBTs hold world records in several weight classes. I have seen one 70-lb. APBT pull a mini-van! Another activity that the APBT is ideally suited for is agility competition, where its athleticism and determination can be widely appreciated. Some APBTs have been trained and done well in Schutzhund sport; these dogs, however, are more the exception than the rule (see the section on APBT's and protection/guard work).
[1]- Actually one can trace the "Bulldog" history back further than that, but for this document that's far enough. Readers who are interested in more information on the history of the breed are encouraged to refer to Dr. Carl Semencic's book "The World of Fighting Dogs".
[2]- Through out this document, unless otherwise noted, when we refer to the American Pit Bull Terrier(APBT), we are referring to the ADBA version which is more likely to be bred to the traditional APBT breeding standards. In general, the UKC version of the APBT is now being bred mostly for looks alone, and thus has much in common with the AKC AST.
==================================================
Earl Tudor
"The Oklahoma Kid"
By
Don Mayfield

Fall 1982

In 1951 after near 100 years of breeding gamedogs in the U.S.A. the breeding reached a peak. In Arizona a male named "Bouncer" was bred to a female called "Bambi" by a man called Ed Ritcheson. In the litter was a red dog with a deep blue black nose. This dog was bred from the Core of American bred gamedogs, he was raised and named by a black man from a pup. This dog was named "Dibo," in the heart of Africa the word Dibo means "Devil." In his pedigree were over 100 years of American bred gamedogs that had been proven in the pit, all his close family were the gamest bred in the world. Dibo and his close family was the product of this American breeding, his bloodline showed all the areas of the U.S.A. The American Gamedogs in Dibo's pedigree were dogs that proved their gameness in the Core of the gamedog game in America. These gamedogs came into our nation near the mid 1800's from Europe. Some of the gamedogs that were brought into our nation were of "outcross" breeding. When different pure families in England, Ireland, and Scotland were bred together in their nations, then imported into our nation and bred with either a pure or cross bred family, that were being "matched" into one another to prove which were the gamest families. Men like Cockney Charlie Lloyd imported pure family breeding, and "pure" English breeding and cross bred it with the English breeding here in our nation. These men match few dogs, but proved their breeding was of the gamest bred. In the days of the late 1800's and early 1900's Con Feeley who matched more dogs than any man in his time became the breeder of the different outcross English families that had been bred here in the U.S.A., Con bred a family of dogs from what he proved were the games dogs bred in the U.S.A. in his time. F.G. Henry imported some English red dogs and crossed them with the proven family of the Con Feeleys.

In the same days the English dogs were being matched, proven and bred, on the Northern coast of our nation. The Irish families were being done the same way in the area of the East Coast. J.P. Colby was a man that bred together different pure Irish game families with the Irish outcrosses that was being crossed together on the East Coast. A number of different men matched and proved the gameness of the breeding that were being bred at the "Core" of the "game." In the late 1800's and early 1900's the Irish dogs of outcross breeding, the ones that were proving themselves as the gamest bred, made it to Texas in the yard of Bill Shipley. Bill imported a pure Irish family from Ireland and crossed it with the crossbred family that had been bred in the U.S.A.

In the early 1900's the next name to fill the shoes of the number one gamedog man of his time, and only a few men here in this new nation had wore these shoes, the last was Con Feeley from Illinois. But in 1908 Earl Tudor showed up in Oklahoma from Kentucky. Earl matched more dogs and proved his understanding of gameness more than any man in his time. He bred together the families of F.G. Henry to the families of Con Feeley. In the late 1930's and early 1940's Earl was proving his breeding the gamest bred. At that time he crossed the dogs of the purest that had been proven of the English breeding to the Irish families of Bill Shipley, 200 miles from him in Texas. This brought together the games dogs bred from the north and the gamest dogs bred from the East to near the center of the U.S.A. In the days of Earl Tudor when he proved his breeding the gamest bred, dogs from his breeding were being bred in most the States in the U.S.A., this was in the 1940's. In the early 1950's Earl Tudor was in Arizona looking at the breeding of the gamedogs, when he was taken to see the dog "Dibo." Earl liked very much what he saw, and took the dog back to Oklahoma with him. At first he called this red dog "Runt," but later he changed his name back to "Dibo." Earl bred "Dibo" to a number of females bred from his family of dogs. In the late 1950's and early 1960's Earl began to bring together a family of dogs breeding them "pure." His dogs were different than any of the different families being bred in the U.S.A. The one's from his families were the ones at the "Core" with most all the other breeding in the U.S.A. being of outcross breeding from Earl's yard.

In the years of early 1960's to the early 1970's Earl bred his understanding of "American Gamedogs" into a family of dogs that all looked alike

In the early 1960's to the late 1970's we proved the gameness of more "American Gamedogs" than any man of our time at the "Core" of the game. (Before the game became against the "law.") Today in the early 1980's society around the world is seeking the gamest family of dogs bred in the world. Here in Texas on a mountain top beside a long creek we have bred from the "Core" a family of very "pure American Game bred dogs." In the last number of years we have bred only a small number of dogs from this family. At this time when a number of nations are seeking the gamest family of dogs bred, it being the "American Gamedog," it being "proven" in a number of nations matched into the different men's understanding of gameness. At this same time "Paul Harvey" a newsman said, "in a nation today man is trying to prove a dog has a "spirit and soul" that goes to "heaven". I am an outcross bred Texas man that has spent over 20 years looking into the insides of dogs, I am a believer the dogs house the "spirit and soul" of the devil, and is becoming man's best friend. Here in the U.S.A. where the people of the most outcross breeding are born, we are the breeders of the gamest dogs bred in the world. Here in Texas where the most outcross bred people in the U.S.A. are raised, we breed a game family of American Gamedogs to the point of gameness that that only (3) kinds of people can bear to be around them. Those three kinds of people are people that feed them, and people like a "saint," are a person with the faith of the devil himself. The ones like the "saint" the dogs will be scared of, and show fight along with the jump in his lap and lick him all over his face. But when a man of little faith looks eye to eye with this kind of game bred dog, the man become within great danger of this dog. But the dog will be scared of the ones more like saints and turn their heads away from them. I have watched many of these game bred dogs as they are looked in the eye of by a number of men we have met in our time with these dogs. I have looked also at the men when hey do the looking.

This story I write you seeker of gamedogs comes from my understanding of the research we have involved ourselves with in over the last near 25 years, of Gamedogs and Gamemen who I have been a lover of both. In my eyes the gamest man ever bred was our Lord Jesus. He being an outcross bred man of God and mankind and took his death on the cross other than tell one little lie. That is the faith and spirit of a gameman.

One Fall morning at sunrise in the year of 1961 we met Earl Tudor at his home in Oklahoma. We had with us a nice bred female bred from his family of dogs. We came to meet him and talk to him about breeding the female. We did a lot of talking and bred the female, then drove the near 250 miles back home in Texas. Within the next number of years we made the trip to Earl's place many times. On one trip I remember sitting on a couch with Earl as he had bad eyes and always wanted me to sit close so he could look me in the eyes when we talked. We most always talked about breeding, as we sat talking, trying to stare each other down. We had our own ways of understanding conditions and taught each other what we had done, and were doing. But when it came time to talk about breeding I only asked questions. I remember one time Earl who was in his mid 60's about that time, broke down in tears and cried like a bay as he told me, "these damn so called friends of one dog deal or another who steal the credit of every dog bred, never gave me one damn bit of credit for "my dogs." Then he would wipe the tears from his eyes, put his glasses back on, get in my face and say; it's all in the "breeding" Don, it's all in the "breeding." Then he would tell dogs and others, he would tell me about the breeding of those dogs as the pure ones, the family bred dogs, not the cross ones, the pure ones. Then I would say Earl, what was the best ones that you had, he would cock his head, and his wife Flo would speak up and say, "the best dogs Earl had were the old Henry dogs, you never lost a match with a Henry dog did you Earl???" and Earl with a smile on his face would say; "You're right Flo, the dogs of old man Henry's family were the red eyed dogs and were game to the core." He would say to me, "The eyes were as red as a coon's eyes, they had a big mouth with a lot of muscle in the head, most were black, but some were white, and some were red rednose dogs." He said all the Henry dogs could bite hard and were very wild to work and handle. And like the preacher man from Oklahoma he would scream like a cat in the middle of the night, get down on the floor on his knees and say they were deep game dogs, bred of the English breeding. I set there on the couch like a red headed stranger thinking don't cross him, don't boss him, he's wild in his sorrow he's ridden and hidden his pain. He would then get in his place and say, "they were good ones, Don." He was like a wild black stallion, and his wife, Flo, was as frail as a bay. His love for the gamedogs was like a mountain so big, and for hours we set and talked on and on. He would speak up like the bright lights of Denver of 10 thousand jewels in the sky when he talked, looking me straight in the eyes. He said, "if only I could call back the days when it was nobody's business where you're going, or where you come from." Then, he would ell me about "Dibo," "Demon," Black Jack jr. and his sire, and dam. He would say to me, "Don, in the 20's here in Oklahoma times were hard to survive, we fought dogs and cocks to survive. In the 30's the men still took an Indian squaw anytime they cared for one. Then in the days the winds came and blowed for 7 years it took two feet, to three feet of top soil from the farm land of the Irish race of people. And in those days when the Irish race in Oklahoma could not survive in the "Grapes of Wrath" they picked up and moved to California to become the farmers of the world.In those days we had three "pits" on our place, we fought cocks and a few dogs each week for a number of years. He would then tell me, he had been shot 6 different times by 6 different men, and never once went to the hospital, the doctor came to his house. Once his brother-in-law shot him and they never called the doctor, as Flo dressed the hole where it went in, and the hole where it came out. He said; "In those days we kept 7 dogs close to ready at all times, they were matched in one week's time." He said I would run in the fields with my dogs, in those days, there were no fences to cross just open land. He said; We had a mound built of sand with a chair that turned all the way around. We kept 7 dogs staked around the chair, I had a long fishing pole with a tail tied on a line. We would go from dog to dog for two or three with one working while the others worked the coontail. Earl then said we never had a tread mill in those days, if we had one we wouldn't use it. The catmill was the best to work a dog on and I would say, "yes Earl I know, I have one in my yard," and then he'd look me in the eyes and say, tell me the way you work 'em, and I would start to talk telling him each and every thing we did as his eyes started to shine like saying, stay a little longer. As I talked on he would move quick with his head high saying that's right that's right. And as the stories were told over the years on his couch, we always ended in talking about "breeding," as he would say; "The Irish dogs were also deep game dogs." He would tell me about the different pure breeding of the different families. Then, the tears would come with shakes, and the cry of agony as he looked me in the eyes and said, "these damn so called friends never gave me one bit of credit for my family of dogs, those big shots Shipley and Feeley they got all the credit. Earl always called Bill Shipley the "Big Shot." He sent his female Flash with a black man to be bred to Red Jerry. He would tell his black friend just what the dog looked like to breed the female to. He would then laugh like and angel flying too close to the ground, he would speak up and say, it was the English dogs Don, you can hear these know it alls talk about the Irish dogs and they were good ones, but the English dogs was where it was at. Red eyed dogs as red as a ruby. Wild to go very hot dogs that would eat up a person, and Flo would speak up and say "Lord yes," as she pulled up her long cotton dress to her knees and pulled her knee socks down to her ankles to show her scars from dog bites. Earl then laughed and said Flo got bit two or three times trying to part some that would break loose when I weren't here. I got where I told her to stay in the house and let them fight to the death. So she don't get bit no more. She would speak up and say; Phyllis those Henry dogs had a big mouth and you had to beat them in the head with a piece of iron to get them to turn loose. Earl would say, "Ya'll she's telling you the truth, she'd have a iron bar or hammer in her hand and if one got on her she'd beat it in the head and kill it. Then he would say she's a sweet little old thing ain't she, I don't know how I could have ever made it without her. Flo was a slip 5 ft., 3 in. small woman of near 90 lbs. Earl being a small man, in his prime 117 lbs. with gloves on. He said he would have been a fighter if he had not got shot in the belly one time. As he said Bert was the stronger fighter of us two, but I was like the sun from over the mountain with a sunlight that dances on your skin, but Bert he did me wrong and I never him. And we would talk on about breeding. Earl carried the famous name of "Tudor," the famous King's who went by the names of Henry the First, and so on, in Europe.

In the 1400's in England the way was open for the only surviving Lancastrian with strength to take and keep the throne. Henry Tudor was a descendent of John Tudor of Gaunt. He had spent half his life in Wales, the rest on the Continent. Urged to intervene, he found Welsh forces eager to join him when he landed at Milford Haven, and led them on into England. King Richard met them outside Market Bosworth, near Leicester, on 22nd of August 1485. The first battle was the gamebred "wardogs." The royal army was larger but fought with less conviction. Many nolles on whom Richard was relying had already decided to defect. Richard himself fought bravely, but was accorded little respect for this after his death. The crown of England found in a bush was placed on Henry Tudors head, and the corpse of the dead King was stripped naked, tossed across a horse, and carried unceremoniously to Leicester. The last of the Plantagenets was gone. The stage was set for the "Tudors." The mark of the Tudors were the dog and the dragon.

Earl never told me he was from the English Tudor family, but he had the same little beadie eyes as the pictures of the Tudors of England. He had the courage of a line of Kings that would get in your face the last days of his life that came in 1977. Earl became a hard man to be around the last year or two of his life from the hate he had within, he kept a pistol in his pocket from sunup to sundown, and did a lot of crying the last years of his life. He told me stories about bad men he knew who always stopped and visited him as they came through east of the Texas Panhandle in Western Oklahoma where the rocks peer out of the ground in rows as if they had been planted. Poor land that at this time is too poor to grow weeds. He told me about a time he spent in court as they tried him for murder. He told me stories about life and gamedogs that can only be told in a "Book."

Earl Tudor was a man that liked all of us that kept only two kinds of dogs. Those he liked, and those given to him by a friend. He started breeding his family of dogs in 1908 after being around them all his boyhood life. His first dog to match was a Henry bred dog called "Jack Swift." He bred him to a Henry bitch called "Black Star" and produced a dog called "Judge," and he went to trial for 60 years proving his value of truth and understanding of breeding to be unbeatable over the years. It was like a whiskey river that never went dry in most of Earl's grown life. He was the town bootlegger and his friend Jim Williams was the law. Jim always bred his females at Earl's house and it was Jim Williams who led Earl's last stud dog out of his yard. Jim and Earl lived 19 miles from south to north from one another, on the same road. They were just another sample of two friends that had come to the point of hating each other from their many dog deals, but were friends to the end of them both. Earl would say of Jim, "that no good old popper hanging dogpeddler" and Jim would say "I don't know why Earl talks to bad of me." Jim could come and deal dogs with Earl all his life and he did. Earl would say about his life as a bootlegger and the "law", that he never gave as much as a cigarette to, and he was never busted in his many years. And Jim he would tell how he would call Earl and tell him to close shop till the state men left town, each time the state men came to town to try and bust a bootlegger. Earl knew people like Pretty Boy Floyd, Baby Face Nelson, Frank Nash who was raised just a few miles from Earls in what was then called the Bad Land of Oklahoma when survival of life was hard, but like a Oklahoma preacher Earl climbed high on his mountain and screamed like a cat, after walking from Kentucky when a young boy rode in a wagon pulled by oxen. But like a red headed stranger that rode into red rock on a black stallion he made his mark ion the world of life and gamedogs. And like he said you can't hang a man for killing a woman who's stealing your horse. And out on the edge of life is where Earl lived in the Badlands of Oklahoma. He told me one time he won 24 matches in 24 months, he said; "Hell there ain't nobody that can win 24 straight fair, not even me, as he would laugh, and give me a fake right and left to the jaw. He was like the sun from over the mountain top dancing on your skin. And like a light house that stands alone Earl traveled down the roads of life in and around Oklahoma. At one time he had over 100 gamedogs and 200 cocks. He made his own cock spears from bed springs. But the gamedogs was his love from the hate he had within of men.

The game we as men play when seeking the gamest dogs bred, is in life as seeking t hat true friend, after the man deals in life where men are having a hard time to survive in land that is called "bad." As Earl cried out in pain from his butchered body as he lived one day at a time. He told me so many stories with so many different dogs names, we talked for days. He lived by the graveyard where his folks lay to their amazing grace, as he too lay there to rest. But at the time of God's grace we will all arise and be counted for, as I can sometime hear his voice and spirit saying "go for it Don." "Go for it." It was like take this job and shove it I'll make it my way and he did, but I tell you for sure his last years were as hard as any I have seen. He told me, he said Don; "If a man told me could win over my dogs I would tell him I would beat him within so much time and he did." He told me; "one time we were matched into the "Big Shot." Shipley and his friends came down with an old timer a month before he died of old age. His name was Frumble of Arkansas. He was a good old man, I told him after the dogs met, bet your money it don't go 20 minutes. And at 18 minutes the "Big Shot's" dog fell dead in the center of the pit, and old man Frumble was the only man there that seen what I did, he shaked my hand and told me how glad he was to get to meet the "Oklahoma Kid" before he died, he just hugged my neck and left, and sad I seen what you did, I seen. And Earl just laughed and said he was one hell of a man he was, one hell of a man. He then stood up then he set back down. And told me each time we visited many dog stories of too many different dog names to tell about at this time. Earl bred the Henry dogs as pure as he could an crossed it with the Feeley and Shipley families from his understanding of what he had seen in the different matches of his life. "Dibo" was a dog bred of 41 years of Earl's life. In the pedigree of Dibo for 8 generations the three men whose names show up the most, was Earl Tudor of Oklahoma 39 times, Con Feeley of Illinois, 36 times, Bill Shipley of Texas, 24 times. Compared to those three men the others in the pedigree of Dibo were gamedog feeders. Those three men were at the Core of the game where only the truth was. The female Gordons "Red Lady" was an American bred female where Tudors name showed up 38 times in her pedigree. When Earl bred Dibo to Red Lady his name showed in their offsprings Jeff, Spike, & Buck 77 times. In the pedigree of Black Widow, Earl Tudors name shows 69 times. When he bred Spike to Black Widow his name showed in the pedigree of Baby 146 times. He thenbred Spikes brother Jeff to Baby, and produced "Nigger" his last and purest family bred stud dog. His name appeared in Nigger's pedigree 223 times. He then bred Nigger to his sister and produced one lone female called "Spookie," and his name appeared in her pedigree 446 times. Those two American Gamedogs were the purest bred of Earl Tudors understanding of the game he had played near 67 years of his life. And at this time after he is dead and gone there is still some of his so called friends trying to take his credit of breeding.

A Breeder of American Gamedogs

As taken from "American Gameness and Heritage, Vol. 1: Rednecks".
===========================================================================================
The Colby Line
written by By Indian Sonny

Mr John P Colby was an active breeder for many years and produced some of the best dogs of his time. Much of his foundation stock was from the Gas House and Burke strains, as were the dogs of many other breeders. The difference in the quality of the dogs Mr Colby produced was the result of breeding principles he employed. Also, Mr Colby in my opinion possessed a very important attribute, which I refer to as a gift.

Mr Colby practised a simplified version of genetics, Best to Best, selective breeding

Pictured is John P. Colby Age 20.

Best to Best does not mean performing dogs alone. It entails all aspects of the dogs, from performance to pedigree. The most obvious qualities would be gameness, biting power, talent, stamina and a great bloodline. A bloodline is the result of a breeders influence.

Over the years dogs bred by Mr Colby began to exhibit physical and mental characteristics such as conformation, colour and gameness which distinguished them. These dogs were then referred to as Colby Dogs. Thus we have the Colby Bloodline. People were proud to say, "This here is a pure Colby dog". This sounds simple; and it leads people to ask; why there were not more top breeders? I believe deciding on what is Best to Best is the key.

I'm not sure that every dog Mr Colby bred to was Dead game; and I'm equally sure he did not breed to every Dead game dog he owned. This is where the gift comes in. It seems to be an in-born sense or ability. I believe most outstanding accomplishments have been made by men who were endowed with a gift for their respective fields.

I do not believe that man knows enough about genetics at this time to produce great animals; and he most certainly didn't know enough in the days of Mr Colby. Race horse people spend millions of dollars a year, trying to produce great horses, with only marginal success. Similarly, there is no pattern for producing Great dogs.


Friends

The most essential qualities a breeder may possess are; dedication, a gift, a knowledge of Best to Best, and money might come in handy. If a breeder combines these attributes he is likely to produce, with luck, a great strain of dogs.

It doesn't take too much effort to recall the great Colby dogs of the past. These dogs were bred from the pit and for the pit.

But all of this brings us to a very important question; When a strain of dogs that were once highly regarded, such as Colby's, stops producing consistently good pit dogs, is this strain still to be considered good? I have heard people say, "I know he's a cur, but the blood is there". While this is true in many cases, I wonder how long we can continue to breed to curs and hope to produce game pit dogs.

What is good blood and how long will it remain good if we continue to breed to dogs, who do not possess the qualities of their ancestors? While great breeders can breed to dogs who themselves do not exhibit good qualities; can the average breeder afford to take this gamble?

I have seen strains of dogs that have not produced dogs fitting this description for many years, and people who are active in the sport refer to them as good blood or good brood stock. Many seem to proceed under the assumption, that once a bloodline is good it remains good forever. Many well-meaning people have continued to breed Colby dogs exclusively, thinking all that was necessary to preserve the quality of the strain, was to breed to a dog that had the name Colby on his pedigree.

Pictured is Colby's Jerry 1900.

I believe that we have to continuously strive to improve the strain, in order to keep it as good as it was or is. It's an accepted theory, that in order for an institution to continue, it must change and continuously seek to improve. To preserve a bloodline, there is more required than just breeding to dogs whose pedigree shows a particular name. Change is required in order to prevent change in the quality of dogs produced. The Colby strain was developed by change.


Friends

I have heard people say, that the dogs of yesteryear were gamer than those of today. Could it be, in some cases, because we have tried to play Pat and in doing so have lost ground. The people that have bred Colby dogs exclusively for these many years, thinking they were doing what was best, have perhaps underestimated their own ability to breed good dogs.

Many of them have bred dogs for 40 years or more and could have perhaps contributed much more to their own dogs, by using their own ideas and experience. New ideas are necessary in every field. Sports records are consistently surpassed by those not satisfied with repeating someone else's past performance. Last year's record won't win this year's meet.

Were the dogs of yesteryear really superior? I'm sure many dog men of the past would think we have it too easy, because we don't have to grow secret vegetables and cook our dog's food or boil their water. Penicillin has replaced many old remedies, making better dog care possible. I have read some diets that top dog men used. While some were good, none could compete with any good commercial dog food available in countless supermarkets. The poorest feeder today is able to provide better nutrition than the best feeder of yesteryear. We also have refrigeration and other conveniences.

It is not my intention to criticise old-timers and their methods. How many of us would be feeding as many dogs if we had to cope with the same adverse conditions? I think our mission however, is to pick up where they left off, emulating their objectives rather than their methods. The Colby dogs of the past, fit the description of good blood, as their pit records indicate. The Colby strain was developed on the principle of Best to Best. When that principle is no longer employed there is bound to be a drastic change in quality. In a very short period of time a great strain of dogs can be reduced to a strain that can do no more than refer to their pedigree and say "My great, great, grand-daddy was a pit dog....I think!"

Pictured is Colby's Galtie, the Irish Dog, 1910.


============================================================================================
Maurice Carver
The Silver Fox
It was always an honor to write about someone as diverse as Maurice Carver. Much has been said about this "bigger than life' Texan, and almost everyone that knew him either strongly liked or disliked him. While I knew Maurice, the dog man I was never really close to him. By the time I first met Maurice I had heard so much Pro and Con I figured the best policy was just to watch him. I'd be at a very private get together miles from Texas at a most secretive site, and he would show up in his cowboy boots, Stetson hat and usually dressed to kill. The crowd would generally gather around to hear some tall tales, most of which were made very believable by the master story teller. If you would listen real close and asked just the right questions and caught Maurice in just the right mood, he would share some real jewels of knowledge with you, not just about the dogs, but about all aspects of "Life".

I'd not grown to trust Maurice enough to do business with him until one of my best and most trusted friends, Jeff McManus got to know him. He kept telling me about those Carver dogs and Game Fowl he had been driving to San Antonio to breed and see. During a short period of time Jeff went from a pup to a pretty knowledgeable dogman. Jeff was pretty much a Bullyson man who liked the Stomper/ Peaches stuff the best, but bred dogs a lot like Maurice recommended him to do. Consequently Jeff became one of the most successful breeders and dogmen I've known through my years with the dogs.

I've always liked the Iron Head dogs, which is what my Alligator dogs go back to, so always played with the idea of using some of these dogs with my family. These Iron Head dogs seemed to sum up about any family they were crossed with or line bred to. I had asked Jeff to see if Maurice would sell me some of this type blood and no bogus pedigrees on them. I figured with Jeff as a tie I could pretty much trust Maurice to shoot straight with me. So on a humid morning, long before the sun came up, Jerry Hale, Jeff and I loaded into my Vega wagon and headed down to the "Hill Country" where Maurice lived in a converted stage coach station. We woke Maurice up and he seemed to be glad to see us but would have probably been happier to see us a few hours later.

He never got out of his long johns and flip-flops during our stay that day, kicking around the dogs and chickens on that rattlesnake infested hill. I think Maurice held the record for rattlesnake bit dogs over the years. I told him he could get a handle on this situation if he would get some guinea fowl, and I told him I would be glad to give him some. In typical Carver style he said, "Son I've seen those speckled boogers around game fowl and they will peck their eyes out. So the dogs will have to make do with the snakes." My response, and with a little rub I said, "You mean a Guinea can whip a Game Cock?" "They're dirty fighters", he said "and usually run a Game Cock off, and can damn sure ruin one. I'm not sure if a Game Cock can whip one with the steel on, but I'm not going to keep any around. Snakes or not." Maurice was a realist that could laugh about really anything. While we were talking "Rattlesnakes" he got around to cracking us up with the story of his brother being bit by a rattlesnake in a bar and mysteriously dying. He was convinced the snake bite had something to do with his brothers death. Sure enough, years later herpetologist discovered snake venom has an exotic protein that can and often does have long term effects on the victim.

We talked for hours and finally got around to the dogs he had for sale, and I stressed the point of having to know exactly how the dog I was going to get was bred. He assured me I would get a straight pup. He only had a dozen or so pups at the time . I would pick one up and Maurice would say "you don't want that one" and I would look harder until I picked out, with his help, the rangiest looking brindle pup in the bunch. Which was, by the way, off Stompanato and not Iron Head blood. I kept insisting that I wanted a Iron Head bitch and Maurice finally convinced me that there wasn't any around that I could get my hands on and I would do better with the Bully blood anyway. He said all the right things and sent me home with a smile on my face and one thought still bouncing around in my head," Hell son, on that bitch pup, just let her get grown and breed her to that Rufus dog of yours and you will love what you get. So don't go selling them all. You don't never need to roll the bitch just breed her." I called this bitch "Maurice" and she showed real game for me, that's right I didn't listen to him but I did breed her during her next cycle when it came around. Sure enough the only litter she ever had in her life, and what a bunch of dogs. Jay's CH. Jack, J.M., Pig (Snort), Teddy Bear, and probably my favorite Davis' Belle.

I was at a contest between Plumbers' Jade and Art when the subject of referee came up and of course the boys from Houston wanted Maurice and the locals were not excited by this since Maurice was real tight with Art's backers. After much snorting',scratching' and head shaken' Maurice turned to me with a big grin and said with your reputation son you need to ref this one and I'll be your time keeper, if you'll loan me that watch, some "A" hole stole my Rolex", he said with another laugh. " I'm betting money on this one so someone else ought to ref it" I said. He raised back with another hearty laugh and really yells out, "ANYONE HERE OBJECT TO THIS MAN AS REF AND ME AS TIME KEEPER?" Everyone agreed and it was on.

After I had paid off my bets and left, somewhere down the road I remembered my Timex and turned around. As we drove up I could see that grin, "Thought I was keeping' your watch huh? I gave it to the Plumber for you, even though I need one." Maurice could handle most any situation with the same flair. Get you to bend and like it.

We had met at a motel in San Antonio for a big one and left out just before day break. As we went over the cloverleaf on the freeway you could see car lights for miles...each way. Two local Sheriff cars came by doing a hundred to get to the lead car. I later learned that they told Maurice he was sure making their jobs hard and next time to bring a few out at a time so they wouldn't have to investigate this suspicious behavior. They also assured him they would be in another part of the county until they heard his show was over. We ended up in a big chicken fighting' arena for one of the best shows I had ever attended. As the sun came up Ed Weaver came in saying "Damn, everyone here must have drove two cars." I walked out to look and it looked like a sale at Sears parking lot with tags from Calif. to Fla. as far north as Ill. and everywhere in between. As usual Maurice had top contenders lined up into each other and ran the show with the precision of a boxing promoter. As soon as one match was over another pair was ready to go. The great dogs and the good times will be long remembered by all who were there.

There are too many good Maurice Carver stories to tell them all but one of the best was when George Gilman and Billy Don went down to get a dog from Maurice back in the seventies. George said "What a layout", mounted gamecocks on the window sill fighting' a wood carving of two dogs fighting', and a full length picture of a nude woman on the wall.You could see a treadmill in an adjoining room with some gear hanging on the walls. Puppies running around under your feet growling while Pat mixed them up some food in the kitchen. Maurice came in and told George "Stick around boys, as soon as Pat gets the puppies fed she'll cook us up some steaks." George said he kinda looked the situation over and said "That's OK Maurice, we planned on eating down the road...at McDonalds"

It was said Maurice killed a man just trying to rob him and was not billed by the Grand Jury. He was also considered a powerful man in and around the San Antonio area for many years.

Maurice was in fact a character, but an admirable character. The things I've written about him will or should give the reader a look of what he was all about. The macho image that impressed so many was not what I was impressed with. Maurice had a great inner strength and was a good bulldog man. I can truly say he was one of the best breeders ever, and did a great deal for the breed and the game.

There's much more to the man than can ever be written and I say only a small part of it. Should others, most of which knew Maurice better than I did feel compelled to write a story or two, it would be very interesting for the Fraternity.

Maurice Carver...What a guy!!
By
Bull Plug
==================================================
Floyd Boudreaux
Eli Dogs

Eli was the product of the breeding efforts of Floyd Boudreaux. He was heavily bred on Floyds all time favorite dog Blind Billy. When Eli a 2xw was bred to Mr.B.'s Spook, another Blind Billy breed dog, the outcome was to change the sporting community forever.

Three famous names that come to mind from the Eli/Spook breeding are: Eli Jr., Bullyson, and a bitch named Brendy.

Eli Jr. was a fantastic 2xw himself and sire of one of the greatest dogs of all time, the 7xw Gr.Ch. Art. Art was unfortunately stolen and never recovered. Before Art was stolen the breedings made with him produced a high percentage of quality game dogs and enough to make Art an 'ROM' producer. Just to imagine what Art could have produced if he wouldn't have been taken is enough to boggle the mind. Art had a litter brother who was an exceptionally talented dog in his own right, the 3xw Ch. Hurt. Bullyson was a 2xw, 1xL and another fantastic producer. Bullyson's only loss was to one of his sons Benny Bob. Benny Bob subsequently lost to Jimmy Boots in a classic match. Bullyson's legend as a producer can be found in many dogs, but his most famous offspring has to be the 5xw Ch. Honeybunch, the all time leading 'ROM' bitch. Honeybunch subsequently produced the 4xw Ch. Jeep. Jeep now ranks as the number one 'ROM' dog to this day and literally deserves to be covered in a story alone. Other famous Bullyson offspring are Loposay's Buster 'ROM', and the ever so famous Midnight Cowboy. Brendy when bred to her brother Eli Jr., produced P. Carver's Black Shine. Shine subsequently produced the legendary 8xw, 1xL Ch Rascal, Oso Negro a brother to Rascal, and the world famous P. Carver's Stomponato. Rascal when bred to Honeybunch produced the 3xw Polly, who in turn was bred to Jeep's father the 6xw, 1xL Ch. Bo 'ROM', thereby producing the great 7xw Gr.Ch. Outlaw. Another famous Eli bred dog was the 5xw Gr.Ch. Nigerino. Nigerino represents some of the purest Eli Jr. blood to be found today and is a highly respected bloodline in its own right.


The thing that make the Eli dogs so popular is that they are powerfully built dogs with devastating mouths who consistantly throw these traits into their offspring.

(pictured is Clemmon's Brendy)

One of best crosses to be made with the Eli line, was with the 'ROM' Snooty dog. Snooty was an extremely intelligent dog who added the highly desirable traits of pit intelligence and style. Eli dogs tended to be barnstorming dogs and this would lead to short-windedness. The Snooty cross corrected this problem without sacrificing the highly desirable Eli traits. Probably the best known dog from this cross was the 4xw Ch. Chinaman 'ROM'. Chinaman had it all and has subsequently produced a superior line of dogs. The Chinaman dogs consistantly throw intelligent, powerful, game dogs with a lot of mouth, literally a complete package. These dogs are true fast lane quality and continue to make an ongoing impact in today's sporting era. It would be impossible to list all the quality dogs that came directly or indirectly from Eli Jr., Bullyson, or Brendy, because their impact on the sport continues on today. Their are literally hundreds of famous dogs who owe their success to the Eli line and its originator Floyd B. and it would take an archive of novels to list the accomplishments of them all. This article much like the one about Red Boy only serves to scratch the surface of this famous breed.




(pictured is WALLING'S BULLYSON (2XW)(1XL) ROM )


===============================================
Andre Giroux

Andre Giroux was a French Canadian who showed Americans that we did not have the monopoly on game bred American Bull Terriers. He is kown as, and definitly was, a top handler, conditioner, and match maker. I feel that his greatest talent was the ability to know which dogs to use for breeding and how to most effectively cross them. He was similar to one of his peers, Maurice Carver, in the respect of producing some of the best American Gamedogs of his time, although Andre lived in Montreal, Canada his entire life. Andre found good dogs where he could, was extremely selective on individuals, but he never became overly focused on one bloodline.

Andre culed or lost testing what most dogmen would have used for a foundation. He owned some of the best, then defeated the rest. While I was still a novice, Andre versed me on how in order to be successful in the dog game that I must learn to keep my heart in my wallet. He versed me on other ideologies regarding the dog game during our many conversations about the breeding, schooling, and training of American Gamedogs, and as to the importance of tending to a dog's mental well being.

Those bits of advice still carry the same impact as I continue to learn as I go along. The reason that most of his lineage has not continued as most had expected is that many people were mating a pair solely because the name Giroux appeared on the pedigree. Giroux was clever enough not to limit his focus on an ego tunnel, but instead on a realistic objective promoting world wide success amid one of the most enigmatic of sports. Such is a practice that Andre almost never allowed himself to slip into, but one of his instincts did directly backfire on a large scale. The exception was when Andre stopped a brother to Brousseau's Ch.Ben named Gunner Jr., which was sired by Ch.GunnerROM, and out of Giroux' Bonnie in a roll while not fully matured but matched him anyway because of his punishing mouth.

Ch.Gunner Jr. won 4 and then was used for stud by many Canadian enthusiasts only to find that he was throwing mostly hard mouthed curs. Gunner Jr. was the dog Andre rolled against his recently purchased aging, retired stud from Patrick, GrCh.Hank. After 20 minutes with Jr., Hank was for sale again and was fortunately purchased by Captain America to be used with much success, just as the Californians were enjoying with the Hank blood through Ch.Little BootsROM and GrCh.Double Trouble. Captain America reached the pinnacle of his breeding program when a son of Hanks named Sir Douglas was put over his Alexis bitch, resulting with Captain America's GrCh.King Arther that won his final outing as game as the game ones come by winning a war over PSK of NY's Assassin at 41.5lbs.

Danny "Tattoo" Powell was a protege of Giroux and he seemed to be the only man beside of Alan Waldman, Louis Vinagro, James Crenshaw and Camp who knew how to successfully continue to propagate the Giroux lineage by keeping a mixture of the old Trahan's Ch.Rascal and Carver's Black Widow blood through Ch.Gunner over the Tudor stock through either Maloney's Davis or GrCh.Hank. Danny Powell purchased one of the best sons of Giroux' Trip, named Ch.Rocky that was a dog winning 2 mathces in one night, back to back, though the 2nd was not counted as a legitimate win. The other Ace Tattoo aquiredfrom Giroux' wife, Lise, was Ch. Our Gal Sunday, one of the hardest bitches of modern times as she won all of her matches while never passing the 21 minute mark.

Andre phoned me a few times over the years to fill me in on the progress of his dogs and to ask about mine. Once was when Andre unfolded a story about how the old Bear dog which he purchased from Joe Orday came up missing. Andre told me that he found out who had stolen his old stud, and took a drive to see if what he had heard was true. After looking in the man's backyard he walked to the front door and politely knocked. As the man opened the door asking "Yeah, what do you want?" Andre answered with 3 spent .38 caliber cartridges. He then calmly walked into the backyard again to get his dog, and went back home. Serious charges were pending an investigation, but Andre justly walked away from that mess with out doing any time.

Although Andre lived in the city, in an apartment building with virtually no yard to speak of, he never had a dog stoeln from him gain. In fact when people moved into his apartment building, he would farm out a pup to them as he had with his other tenants so they could raise it for him. Imagine if that man owned acreage. We may still be reading and talking of his dogs today.

F. Rocca
_______________________________________________________
The following is a story by Walter's long time friend Ozzie Stevens

Walter Komosinski

Walter was born in Poland. He left home at the age of 13 to join the circus in Germany.
He came to the U.S. when he was around 20, and was introduced to the dog game when he met George Armitage, who lived near him.
Walter worked in the coal mines near Pittsburg. Lacking a formal education, he went to night school to advance himself. He passed an I.C.S course to become a safety foreman.
At this time, George Armitage had a dog called BING, that he couldn't get matched advertised in his book. Armitage boasted that Bing was the best in the country.
Walter had a young dog called JUMBO. These were catchweight dogs.
Walter didn't feel his dog was ready for BING. but, with a little persuasion and a few drinks, a match among friends was set up.
But, when Walter arrived at the pit, he felt like he was in big trouble. In the other corner stood Harry Clark, and Jack Ward along with Armitage.
It so happened that they got the surprise of their life when JUMBO won in one hour, thirty five minutes when they picked BING up.
Walter had a friend, John Roofner, who had a dog called BROWNIE. (pit weight 43lbs.)
They set up a match with George Saddler, a great-great dog man from Mississippi.
Roofner was an amateur, but BROWNIE won.
Saddler bounced back, only to be beaten again, and yet again a third time. This third match went over three hours.
Roofner then gave BROWNIE to Walter, who built his whole yard around him.
All Walter's dogs were line bred on BROWNIE, and by 1970 all Walter's dogs were white.
Some say he mixed the White Bull Terrier in, but regardless, they were some of the best dogs around. Komosinski's MUTT was sold to Ozzie, who bred him to a granddaughter of Cotton's BULLET. Out of the litter of four, one was given to Walter. The others (Ozzie's Radar, Bryan's Joker, and Bryan's Lulu) were absolutely outstanding bulldogs. they could all hold their own with the best dogs of today.
Walter had an 85 acre farm, with three treadmills in the barn. Any Sunday that I dropped in on him, the dogs would be running all three mills full blast.
Walter bred and always had plenty of dogs. But you could never get one from him unless he knew you were a good dog keeper.
Walter was one tough cookie. When he was 80 years old, he stopped a dog belonging to a man named Livingston in 14 minutes.
Livingston took offense to Walter's stopping his dog in such a short time, so he started roughing up Walter's other dogs as he left the barn. Walter warned him twice. Then Walter let him have it with an uppercut, knocking Livingston back about eight feet.
As Livingston was getting up, Walter quickly took off his glasses, folded them in his pocket, and came in fast, hitting Livingston with a right and dropping him again. This time I stepped between the men, I grabbed Livingston to hold him back, but I didn't need to because he didn't want anymore.
I was afraid for Walter because of the age diffeence. Walter was 80, Livingston was 38.
Walter probably had the best dog houses in the country. They were made out of oak 2x4's and 4x4's, completely sealed with roof coating, and covered with galvanized roofs.
Walter continued to match dogs until he was approaching 87 years of age.
He won the last three matches he had before he died.
He won over Texas Ron and Big Brad at 54lbs. males. Ron handled a hell of a dog from Texas, a stifle dog with a good mouth. But Walt's dog, HERO was one step better. HERO was a grandson of the MUTT dog. Match time was about 43 minutes.
Walter also beat a son of ZEBO out of Rocco's CHERRY BOMB.
When Walter took sick with circulatory and heart problems, he knew he wasn't going to make it. He instructed his neighbor Stanley to do away with all his dogs.
Walter died January 30, 1983 at age 88.
I was fortunate to have been a close friend of Walter's for many years. I learned plenty from him.